Amsas Consulting
Managing Safety, Health and Productivity at the Workplace
A safety-minded workplace should be free of the dangers associated with Alcohol and Drug use. Increased knowledge on the impact of Alcohol and Drug use in the workplace has spurred updates to Occupational Health and Safety Legislation. Today, better informed employers are ensuring that employees arriving to the workplace are "fit-for-work." and have ''Zero Level Tolerance for Alcohol and Drugs''
A worker's Alcohol or Drug use puts all those around them at risk for accidents and injury. Although the employer has the main duty of ensuring compliance with OH&S Legislation, it is the responsibility of both the employee and the employer to act in accordance with it.
We offer testing and training workshops for companies and Governments to ensuring that the workplace is safe for all.
Our workshop and training cover the following main topics:
The high incidence of alcohol and drug related issues in the workplace today
The Legalities on "fit-for-work" guidelines in the workplace
Safety compliance
Alcohol and drug awareness principles
The actions to take if a worker may be under the influence of drugs or alcohol
Penalties for non-compliance
Why you may be asked to take an Alcohol and Drug test at work
So how can Amsas Consulting help Governments and businesses involved in the Transportation, mining, oil and gas industry?

By choosing Amsas Consulting as your on-site health and safety partner, we can help you with:
Reviewing your policy to make sure it is up to date with changing market conditions e.g. the increasing use of synthetic cannabis and other synthetic drugs in the community

Training employees to perform drug and alcohol testing in accordance with Australian and International Standards

Training supervisors to identify employees at risk of the misuse of drug and alcohol

Providing quality drug testing kits and alcohol breathalyzers for you to perform your own testing at remote locations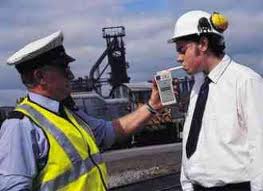 Please do not hesitate to contact us at the contacts below.
Melbourne-Australia
Headquarters Contacts: 81 Chifley Drive, Preston,Victoria3072,
Australia. Tel:+613-84003010, Fax:+61-3-86720703
mail: P.O.Box 1026 Ivanhoe, Victoria 3079, Australia.
email: info@amsasconsulting.com
Africa: P.O.Box 2677-00100,Nairobi.Kenya.
Office Tel:+254208030291
Mobiles:+254704166658
+254738239410
© 2001 Amsas Management Consulting